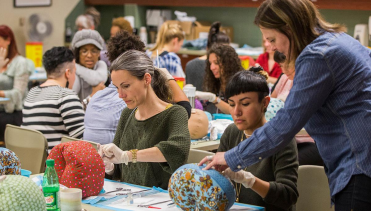 How are Canadian midwives trained?
Midwives may attend a four-year baccalaureate program. Baccalaureate programs are "direct entry", meaning there is no nursing or other credential required for entry. There are currently seven university-based midwifery education programs offered in Canada:
Internationally educated midwives can attend:

International Midwifery Pre-registration Program (Ryerson University) – The IMPP is intended for experienced international midwives, fluent in English, who have practiced midwifery within the last ten years.
Internationally Educated Midwives Bridging Program (The University of British Columbia) – The IEMBP is an 8-10 month orientation program for people who have undergone a midwifery education program.
Certificat personnalisé en pratique sage-femme au Québec (Université du Québec à Trois-Riviéres) – The UQTR provides midwifery training for midwives trained outside of Canada who seek recognition of their diploma or training in order to obtain a license to practice in Québec. This personalized midwifery certificate, "Certificat personnalisé en pratique sage-femme (4002)", is reserved for midwives who have a recommendation for training from the Ordre des sages-femmes du Québec. This certificate includes 5 theoretical courses and a clinical internship.

There are two community-based programs offered in three Indigenous communities in Canada:

Tsi Non:we lonnakeratstha Ona: grahsta' Aboriginal Midwifery Training Program (Ontario) – Three years in length, the program consists of tutorials that address Indigenous people's unique health issues. The program combines western obstetrical practices and standards with traditional Indigenous practices and standards. All training components are completed at the Maternal and Child Centre with Aboriginal midwife instructors.
Inuulitsivik Midwife Training Program (Québec) – The program is an academic and clinical education program for those working in their own communities on the Hudson and Ungava Coasts of Nunavik (Northern Québec). The program uses a modular, competency-based curriculum. The program emphasizes learning in ways appropriate to Inuit culture, including learning in the Inuktitut language, and focuses on the role of the midwife in community health, especially in the areas of sexual health and well person care. This program is offered through maternity programs and health centres on the Hudson and Ungava coasts in Québec.